EU-India FTA: Who Wants a Deal?
By Shalini Bhutani | Commentary | March 23, 2021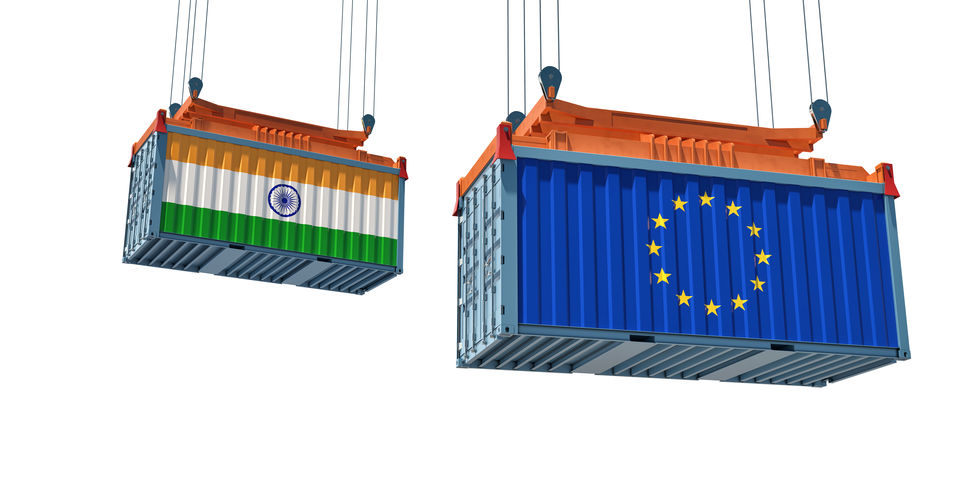 The European Union (EU) is keen to enter into a trade agreement with India. EU was formed in 1993, and India was amongst the first countries to establish ties with this political and economic group. A cooperation agreement was signed between them in 1994. A decade later, in 2004, the relationship was upgraded to a 'Strategic Partnership.' The 2005 Joint Action Plan that followed committed both sides to develop trade and investment. Ever since then, both sides have been trying to agree on a trade and investment deal.
Background
In 2007 EU-India launched negotiations for a bilateral trade and investment agreement (BTIA). But negotiations did not move beyond 2013. In November 2018, the European Commission presented 'Elements for an EU strategy on India' in a joint communication to the European Parliament and the Council. The strategy reaffirmed that the EU and India should pursue a proactive approach to enhance their trade and investment relations. It also proposed specific actions towards negotiating balanced, ambitious, and mutually beneficial agreements on trade and investment with a modern framework for investment protection.
Since the last time EU and India were on the negotiating table, several things have changed due to several developments, including:
The pandemic and domestic strategies for economic recovery;
EU's new bilateral trade agreements, with Canada, China, Japan, and Vietnam;
Brexit; and
New regional FTAs in the Asia-Pacific region.
The Pandemic
 The COVID-19 pandemic hit both developed and developing economies equally. On February 18, 2021, Brussels announced a new trade strategy for the EU for the coming years. Speaking about the new strategy, Executive Vice-President and Commissioner for Trade, Valdis Dombrovskis, said: "The challenges we face require a new strategy for EU trade policy. We need open, rules-based trade to help restore growth and job creation post-COVID-19. Equally, trade policy must fully support the green and digital transformations of our economy and lead global efforts to reform the WTO. It should also give us the tools to defend ourselves when we face unfair trade practices. We are pursuing a course that is open, strategic and assertive, emphasising the EU's ability to make its own choices and shape the world around it through leadership and engagement, reflecting our strategic interests and values."
EU's New Bilateral FTAs
Even before the pandemic struck, the EU had been engaged in negotiating several FTAs or EPAs. EU and Canada agreed on a bilateral free trade agreement called the Comprehensive and Economic Trade Agreement (CETA), which provisionally came into force on September 21, 2017.
EU has also made some significant steps towards furthering its trade and investment relations with countries in the Asia region. And in 2013, when the talks with India were not making headway, the EU began negotiating with China. The
China-EU Comprehensive Agreement on Investment (CAI) was agreed in December 2020, though it is still pending ratification by the European Parliament.
An EU-Japan economic partnership agreement (EPA) came into force on February 1, 2019. Once fully implemented, Japan will have done away with customs duties on 97 percent of goods imported from the EU, and annual trade between the EU and Japan could increase by nearly €36 billion.
An EU-Vietnam FTA entered into force on August 1, 2020. This FTA will ultimately eliminate duties on 99 percent of all goods traded between the two sides. Vietnam has a longer, 10-year period to eliminate its duties on EU imports. In the words of Commissioner for Trade, Phil Hogan:"The agreement strengthens EU economic links with the dynamic region of South-East Asia and has an important economic potential that will contribute to the recovery after the coronavirus crisis."
 Brexit
 EU is no longer 28 countries, but 27. With the United Kingdom officially leaving the EU on January 31, 2021, Brexit has come to be. After the UK first announced its intent to withdraw in 2017, the EU-UK Withdrawal Agreement entered into force on February 1, 2020, after being agreed on October 17, 2019. The EU-UK Trade and Cooperation Agreement that came into force on January 1, 2021, while not as deep in terms of economic integration as for an EU member country, goes beyond the scope of a traditional FTA. It is interesting to note that post-Brexit, both the EU and UK want their bilateral FTAs with India.
Mega-Regional Agreements in the Asia-Pacific
 There are two mega-regional FTAs that have been agreed to in the Asia-Pacific region, with some overlapping members.  The first is the Comprehensive and Progressive Agreement for Trans-Pacific Partnership (CPTPP) and the second, Regional Comprehensive Economic Partnership (RCEP).  The CPTPP or TPP-11 is a trade agreement between Australia, Brunei, Canada, Chile, Japan, Malaysia, Mexico, New Zealand, Peru, Singapore, and Vietnam. After President Trump's withdrawal from TPP in 2018, the CPTPP came into force for the initial six ratifying countries on December 30, 2018. Australia has expressed an interest in inviting the EU to be part of the CPTPP too.
Fifteen countries – 10 ASEAN+5 others, signed RCEP on November 15, 2020. While EU is neither a member of this, nor is the agreement as ambitious as both CPTPP and EU's FTAs with other Asian countries, but EU is looking at RCEP with some interest for the future opportunities it provides to European companies due to the trade liberalisation it takes forward in the Asia Pacific region, as outlined in a briefing published by the European Parliament. EU also hopes that RCEP furthers the growth of intra-regional global value chains (GVCs). But it is pertinent to note that the Government of India chose not to join RCEP. And neither is India a part of the CPTPP.
What Does the EU Want from India?
Amidst this backdrop, India must be acutely aware of the EU's demands under a bilateral FTA/BIT. According to the European Commission's factsheet outlining the EU-India trade negotiations, "The EU remains committed to working towards an ambitious, comprehensive and balanced agreement FTA with India that responds to each side's key interests and is a win-win… Meanwhile, the EU is ready to consider launching negotiations on a stand-alone investment protection agreement, which would increase legal certainty for investors on both sides."
Nonetheless, the EU is going to be much more assertive than it previously was in its negotiations.
The 15th EU-India Summit was held on July 15, 2020. Last year, at this virtual Summit, the two sides agreed to set up a "high-level dialogue on trade and investment relations." On February 5, 2021, the EU-India High-Level Dialogue on Trade and Investment held its first meeting. It has been agreed to hold the next Summit on May 8, 2021.
India is amongst the EU's top 10 trading partners (according to 2020 data for trade in goods). Meanwhile, the Government of India announced its Atmanirbhar Bharat (Self-reliant India) initiative. India needs to seriously think through the role of export in its policy to be self-reliant. Indian industry is asking for more FTAs, ostensibly realizing greater export and FDI and integrating into the regional and global value chains.
Civil society groups in India have been asking the Government of India to be more cautious about opening up, particularly in the food and farm sector. A Human Rights Impact Assessment (HRIA) on the likely impacts of an EU-India FTA, with specific reference to food security, was undertaken a decade ago by civil society groups. The concerns remain, particularly on trade barriers, agricultural subsidies, and intellectual property. Often when human concerns and trade commitments come into conflict, the former is sacrificed.
Shalini Bhutani is a legal researcher and policy analyst based in Delhi.
Image courtesy of 123rf.com