Can the "Third Way" Ensure Equitable Access to COVID-19 Vaccines for All Countries?
By Kavaljit Singh | Commentary | March 5, 2021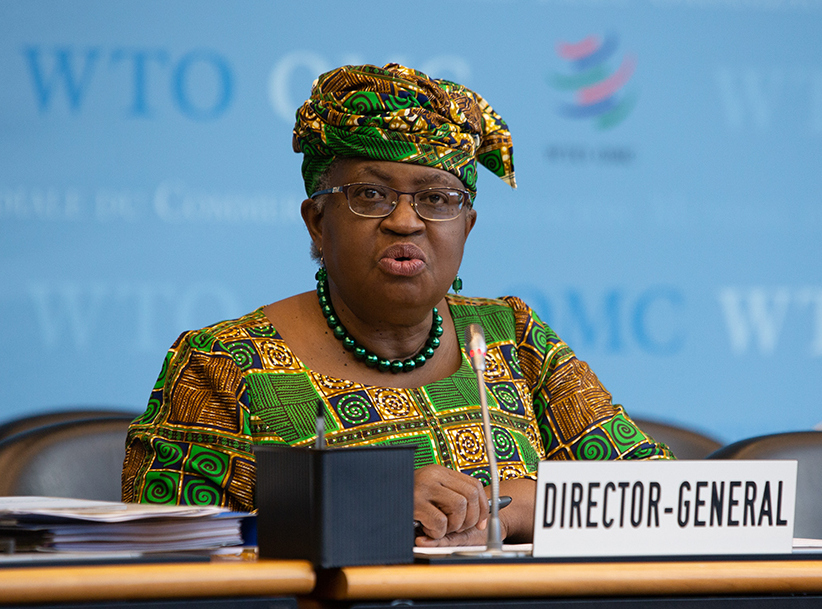 On March 1, Ngozi Okonjo-Iweala took over as Director-General of the World Trade Organization. She is the first woman and the first African to serve as the Director-General of the WTO. These are indeed remarkable achievements that need to be noticed and celebrated. As she holds dual Nigerian and US citizenship, Okonjo-Iweala is also the first American to hold this position.
Addressing the WTO General Council immediately after taking office, Okonjo-Iweala outlined numerous challenges faced by the WTO in the post-pandemic world and the need to pursue necessary reforms to keep the organization relevant.
She also called upon members to shun business as usual approach and co-operate to deliver results. "We have to change our approach from debate and rounds of questions to delivering results… We have to be more accountable to the people we came here to serve — the ordinary women and men, our children who hope that our work here to support the MTS, will result in meaningful change in their lives, will improve their standard of living, and create decent jobs for those who seek work," she told ambassadors at the meeting of General Council.
Okonjo-Iweala devoted a significant portion of her remarks at this meeting on addressing the health and economic consequences of the COVID-19 pandemic. While acknowledging that the dialogue on a TRIPS waiver on the COVID-19 vaccine and therapies is "intensifying," she proposed a "walk and chew gum" approach by also working with "companies to open up and license more viable manufacturing sites now in emerging markets and developing countries. We must get them to work with us on know-how and technology transfer now." She further noted: "There will soon be a world manufacturing convention where we can seek to build this partnership. I also hope we can initiate a dialogue and information exchange between us and representatives of manufacturers associations from developing and developed countries."
Is the "Third Way" the Best Way?
In an op-ed piece published in the Financial Times (March 3), Okonjo-Iweala reiterated the need to intensify co-operation to ensure equitable and affordable access to vaccines, therapeutics, and diagnostics. In her piece, Okonjo-Iweala called upon WTO members to reject vaccine nationalism and protectionism while co-operating on promising new treatments and vaccines.
On the IP issue, she stated: "We must find a "third way" on intellectual property that preserves the multilateral rules that encourage research and innovation while promoting licensing agreements to help scale-up manufacturing of medical products. Some pharmaceutical companies such as AstraZeneca, Johnson & Johnson and the Serum Institute of India are already doing this."
While Okonjo-Iweala has rightly urged the WTO members to reject vaccine nationalism and co-operate on new treatments and vaccines, I do not find convincing her proposal for a "third way" on IPRs that would broaden access to COVID-19 treatments via licensing agreements within the framework of existing multilateral rules.
The first major concern is that licensing agreements to help scale-up the manufacturing of medical products are narrow, secretive, and voluntary in nature. The licensing agreements are not designed to deal with a global medical emergency caused by the COVID-19 pandemic.
Currently, there are more than 130 poor and developing countries that have not received a single dose of vaccine. In contrast, rich countries have secured more than half of the future COVID-19 vaccine supply. In many poor and developing countries, the vaccination timeline may extend into 2023, given the gross global vaccine access inequalities. Hence, licensing agreements and other similar mechanisms cannot deliver equitable, affordable, and timely access to COVID-19 vaccines and treatments on a global scale.
The second major concern is that existing multilateral rules on IP hinder the production and distribution of COVID-19 vaccine and therapeutics globally, especially in the case of poor and developing countries. The current flexibilities in the TRIPS Agreement, including compulsory licences and parallel imports, are riddled with complex, time-consuming processes and therefore not suitable for timely responding to the ongoing global health crisis.
Unless intellectual property and technology barriers are removed, there cannot be equitable and universal access to the COVID-19 vaccine and treatments by all those in greatest need. Suspending IP rules should be an integral part of a global policy solution to ensure equitable and universal access to COVID-19 vaccines and treatments. Without a coordinated global response, the coronavirus cannot be brought under control.
Given the misalignment between the interests of big pharma companies and those of public health, it's worth asking: Whose interests are being protected under the rubric of "third way"?
Whether intentionally or not, Okonjo-Iweala's "third way" is likely to pull attention away, or even worse, could undermine the ongoing efforts at the WTO's TRIPS Council seeking a temporary waiver of certain IP rules that would augment the manufacturing capacity of COVID-19 vaccines and therapeutics globally.
The TRIPS Waiver Proposal
In October 2020, India and South Africa jointly submitted a proposal seeking a waiver on the implementation, application, and enforcement of certain provisions of the TRIPS Agreement (Sections 1, 4, 5, and 7 of Part II) in relation to the prevention, containment, or treatment of COVID-19. The waiver proposal allows all WTO member-countries to suspend certain IP protection related to the prevention, containment, and treatment of COVID-19. If adopted, the proposed TRIPS waiver would enable sharing technology and know-how, thereby allowing the countries to ramp up COVID-19 vaccines and treatments without fears of infringing IPRs or inviting trade retaliation.
Currently backed by more than two-thirds of the WTO's members, the waiver proposal seeks only a limited and temporary waiver subject to further discussion on its duration and scope. The waiver request is narrowly focused on dealing with the health emergency caused by the COVID-19 pandemic. Nothing more.
The WTO's rules allow such waivers under exceptional circumstances, such as right now in the midst of a pandemic. However, the waiver proposal is facing stiff opposition from a dozen developed countries (including the US, Canada, the UK, and the EU) that are keen to protect their big pharma companies' commercial interests. Given the terrible human and economic costs of COVID-19, some proponent countries are even willing to compensate pharma firms for potential commercial loss through the pooling of public funding and global coordination.
More discussions on the waiver proposal are expected to take place in the forthcoming formal meeting of the TRIPS Council, scheduled for March 10-11, 2021.
The People's Vaccine
Although the big pharma firms insist that patent protection provides an economic incentive to undertake risky research, one cannot overlook the fact that the government agencies, especially from the developed countries, have pledged more than US$19 billion of public money through various means to fund COVID-19 vaccines, therapeutics, and diagnostics between January-September 2020, as per the data compiled by Policy Cures Research. For instance, Moderna received nearly $1 billion in research grants and $1.5 billion in supply funding from the US government for its COVID-19 vaccine development program. As shown in Figure 1, vaccines developed by Curevac, Novavax, Johnson & Johnson, and AstraZeneca/Oxford University also received a considerable amount of public funding.
Figure 1: Who Has Funded COVID-19 Vaccines?
Source: BBC.
Needless to add, basic research carried out by public-funded universities, institutes and laboratories also contributed to the development of COVID-19 vaccines. In this context, it is legitimate to ask big pharma firms using public money to develop COVID-19 vaccines to share their technology and know-how free from patents and other barriers.
Long story short, the publicly funded COVID-19 vaccines must be priced moderately and available for all countries, while the governments should ensure global access and adequate manufacturing capacity. As a first step to achieve these laudable objectives, all WTO members should support the TRIPS waiver proposal to temporarily suspend intellectual property rights for COVID-19 vaccines and treatments until everyone is protected. After all, no-one is safe from COVID-19 until everyone is safe.
The waiver proposal serves as an excellent litmus test for judging whether the WTO members can rise to the occasion and put people before profits. By persuading influential developed countries to join the text-based discussions on the waiver proposal, Okonjo-Iweala could show the world that human lives matter more than pharma companies' profit. Isn't the best way to start her term as Director-General and restore the credibility of the WTO?
Image courtesy of the World Trade Organization