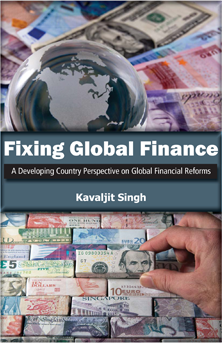 Fixing Global Finance:

A Developing Country Perspective on Global
Financial Reforms
BY KAVALJIT SINGH
Jointly published by Madhyam and SOMO
Year of Publication: 2010
The financial crisis which erupted in mid-2007 has been widely viewed as the most serious financial crisis since the Great Depression of the 1930s. The crisis which originated in developed countries quickly spread to developing countries and the rest of the world. The turbulence in financial systems was followed by a significant reduction in real economic activity throughout the world. The crisis has highlighted that financial markets are inherently unstable and market failures have huge economic and social costs. The crisis has renewed debate on the role of global finance and how it should be regulated.
The aim of this book is to encourage and stimulate a more informed debate on reforming the global finance. It examines recent developments and problems afflicting the global financial system. From a developing country perspective,it enunciates guiding principles and offers concrete policy measures to create a more stable, equitable and sustainable global financial system. Several innovative measures have been proposed to reform the global finance and to ensure that it serves the real economy.
"The book is an outstanding contribution to the literature on global financial crisis. It is objective, sensitive, sensible,
scholarly and yet eminently readable, with unique focus on developing countries. It should be a
compulsory reading for policy makers and market participants."
Dr. Y. V. Reddy, Governor, Reserve Bank of India (2003-08)
"This book takes a heterodox view of current issues on the current crisis and international financial architecture. From a different diagnosis of the international problems facing global finance to a review of the differentiated impact of the financial crisis on India, it is very knowledgeable and profound. It gives insights from a developing country angle that are very important for international reforms.
Swift, well written and sharp, it is a stepping stone toward further discussions on reform of the international financial system."
Dr Oscar Ugarteche, Instituto de Investigaciones Economicas, UNAM, Mexico City
"The cardinal principle that Kavaljit Singh would have everyone remember is that 'financial stability is a global public good' and a voice should therefore be given to developing countries at international forums. His overarching idea is that there should be a 'new deal'
which will outline the path of global financial reforms through a process of democratic renewal."
Subir Roy, Civil Society