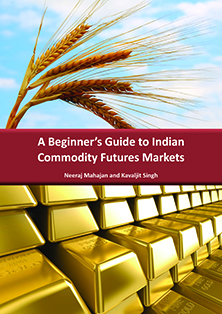 A BEGINNER'S GUIDE TO INDIAN COMMODITY FUTURES MARKETS
BY NEERAJ MAHAJAN AND KAVALJIT SINGH
Published: April 2015
Length: 108 pages
Format: 210 x 297mm
Printed copy available on request
Skyrocketing food prices in 2007 and 2008 sparked riots in more than 40 countries and provoked a heated debate in academic and policy circles regarding the role of commodity futures markets in aggravating food price rise. In India, too, the government banned futures trading in several agricultural commodities in 2008 to control food inflation.
The Guide explains the rapidly changing and complex world of commodity futures markets with special emphasis on the Indian markets. It connects the dots, showing how the futures markets operate in India and globally. It aims to enhance the layman's understanding of the intricacies of commodity futures markets in a historical and theoretical context.
The Guide provides concrete examples to show how the Indian commodity futures markets are manipulated by a few big players who enrich themselves at the cost of farmers and small traders. It reveals how systemic corruption and frauds take place frequently in the Indian markets due to inherent weakness of the institutions responsible for making and enforcing regulations. In gripping detail, it describes some of the recent scandals that have shaken the public's trust and confidence in commodity markets.
With chapters spotlighting how specific frauds were perpetuated in the Indian and global markets, the Guide provides well-documented evidence of how the commodity futures markets are moving away from their avowed objectives of price discovery and price risk management in an efficient and orderly manner. It offers specific policy recommendations to improve the regulation and supervision of commodity futures markets.
Written from a public interest perspective, the Guide attempts to engage citizens, farmers, parliamentarians, market practitioners, policymakers, academicians and journalists with an interest in the area of commodity derivatives markets in general and Indian markets in particular.
"One major obstacle to governments being held accountable for acting on financial speculation on food markets is that this area largely escapes democratic scrutiny, due to its technical nature, its specific jargon, and the fact that most experts are linked to the financial services industry. A Beginner's Guide to Indian Commodity Futures Markets aims to correct this: I welcome its publication as a tool to encourage this much-needed public debate."
Olivier De Schutter, Former UN Special Rapporteur on the Right to Food (2008-2014)
"The Guide provides useful insights into the workings of commodity futures markets. In easily understandable language, it seeks to educate the people on how to steer clear of this dangerous financial bobby trap. It shall be of interest to anyone interested in commodity derivatives trading which has become a virtual casino."
Kamal Nayan Kabra, Chairman of the Forward Markets Review Committee (1993-94)